Many students in our community have started with zero dollars or no budget; yet, they got to build an Amazon business that supports them or their families.
How did they do it? How can anyone start getting some "seed" money to build a sustainable business
This post is intended for any person who is strapped for cash and needs some help. Whether you need the cash to pay some bills or save to build an Amazon business (which most of our students have done), this post will cover the main things you need to know to get your needed cash.
The focus in this strategy is to use garage sales and thrift stores to find products you can re-sell either on eBay or Amazon. Our recommendation is to start with eBay because it is free and many of the items we'll tell you about do well on eBay.
This technique requires zero sales experience, just research and some perseverance. The amazing part about this strategy is that you can quickly see jaw-dropping profits made in such an easy way.
Sound too good to be true? One of our top students, who started with only $400 and went on to build a seven-figure business, started with garage sales. Because of the terrific profits possible, this method can really provide the cash to re-invest in your business and grow.
Bonus Content: Examples of Sold Garage Sale Items
Enter your name and email below to get access to bonus content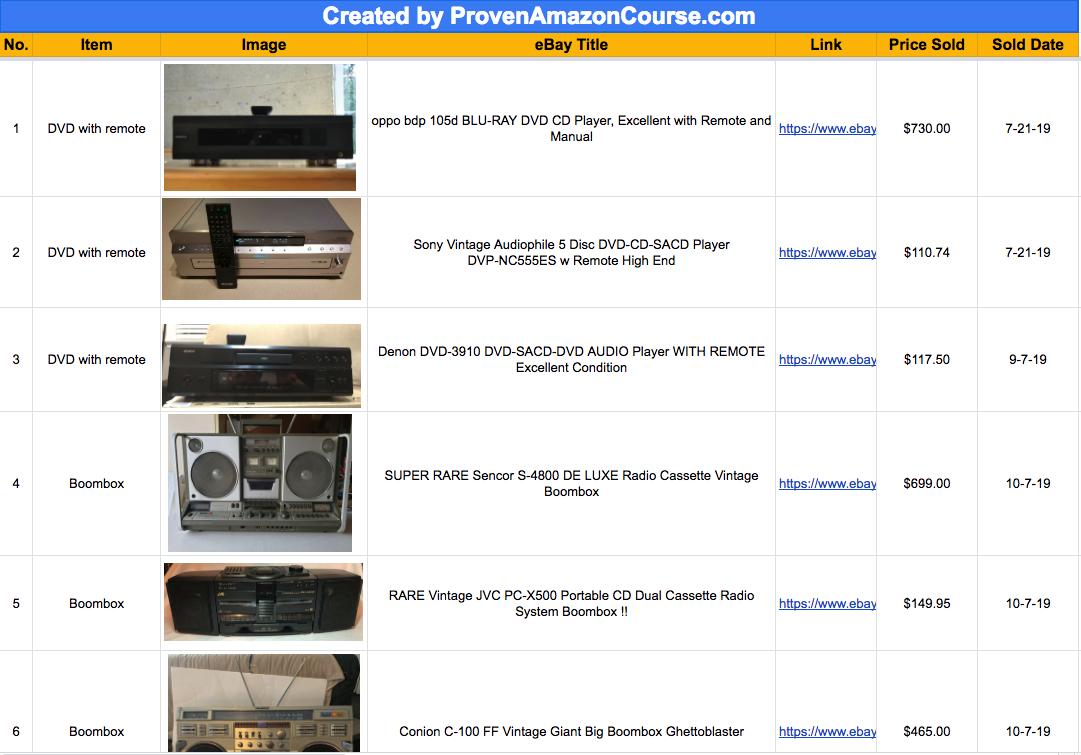 WHERE TO FIND ITEMS TO RE-SELL?
The best places to find new items to buy and resell are thrift stores and yard sales. Any local thrift store receives donations and you can find real gems there, even if it takes a bit of rummaging through useless items.
Yard sales are also incredibly profitable, when people sell items for substantially low prices due to not knowing their real value or simply wanting to get rid of an item. This is where you come in! Snatch up these products, do your research on them, and you could be making $35 on a product you bought for $3.
Thrift stores receive massive donations, which can even include new items. Often, we've found items for $1-3 that could be re-sold for $15-50.
Aside from thrift stores, you can also look at yard or garage sales. Plenty of neighborhoods have big garage sales when looking to clean up their house and get rid of some clutter. They tend to have diverse selections, and most importantly, are open to haggling. You'll find them willing to accept bulk offers just so you'll take away that box of old DVDs they don't know what to do with.
FIRST TIP FOR BENEFITING FROM GARAGE SALES: When visiting yard sales, you need to plan your trips ahead of time to maximize efficiency. You don't want to visit two garage sales, but both on different sides of the city, and waste an hour during the commute.
Look up yard sales in the newspaper or on listings online, such as on Craigslist, and take note of a route you might want to take. If one specific neighborhood is hosting various garage sales, it might be worth checking out to walk through it and quickly get through three different yard sales in almost no time.
Choose a route with thrift stores on the way or various garage sales close to each other, whichever way will let you hit as many places as possible. Remember, the time you spend driving could be spent scavenging through a pile of collectibles!
You will notice a significant change in your winnings by optimizing your routes.
HOW TO RESEARCH
Now you know where to go, but how do you know which items have potential and which are a waste of time? This is where research and skill comes in.
The tips in this article will minimize your risk for getting started with garage sales. As you become more skilled in reselling, you'll start to see how taking risks pays off and feel more confident about your future sells.
But you have to get started as soon as possible!
The process for researching the resell value of each item is simple (a process you can do on your phone as you are attending garage sales or visiting thrift stores):
Go to eBay
Type your keyword (for example, "Panasonic dvd player")
Filter the options by "completed listings"
The search results that come up with a red price have not ended with a sale; the results that have a green price are listings that sold.
WHAT TO LOOK FOR?
When looking at yard sales or browsing a thrift shop's catalogue, keep an eye out for these common profitable items:
Power tools

are normally sold low, even more so if they're in a set. These can easily make a profit, because most sellers are just looking to free up some space and want to rapidly get rid of tools they don't use anymore.

Video games

, specifically vintage consoles and cartridges, can be sold at low prices for the sake of throwing away machines that aren't used anymore. This can be greatly beneficial for you, because plenty of people look for these consoles or games for their collections or nostalgia! Aim for the machines pre-2000s.

Textbooks

tend to be sold cheap once they're not needed by the owner anymore, but luckily for you, textbooks tend to re-sell very well. It's a good idea to get these especially before a new semester starts. Always check the value of the book before buying a specific textbook.

Furniture

will sometimes be given away for free, or close to it, which can come in handy for your wallet. If you're willing to put in the work and fix it up with paint, you could even sell it as a new item and make a gigantic profit.

Clothing

is one of the most common things sold at yard sales, but some of them even have the tags still attached. Look for brand-new items or brand-names, which tend to be worth a lot more than the price you'll find them at.

Records

, as well as records, are highly sought after by collectors! Do your research first to see if a record is worth buying, but some vinyl records can make you big bucks thanks to avid fans.

Frames

can be overlooked due to the art in it. Art tends to not make much, but the frames can be great for flipping if they're antique-looking. Keep an eye out for any ornate frames. If they have interesting art in them, that's just a plus!

Camping gear

, which is usually bought and only used a few times, can be found in amazing conditions. Fortunately, you can also find them for low prices and flip them easily, as long as it's in a good state.

Sporting equipment

, such as sporty clothing or exercise equipment, can be a hit or miss due to its conditions. In good conditions, this equipment can be found for cheap prices, even if they're brand name. As long as you pay close attention to how used it is, this can bring you great profits.

Kitchen appliances are sometimes found almost new in the box, since they were bought once and never really used. Luckily, with a bit of research, you can quickly figure out if certain brands will make you good money or if it's better to pass on it.
TIPS ON HOW TO MAKE MORE
You have your plan for the weekend mapped out, the route you want to take, every store you want to visit, and a list of items to look out for. You are ready to start making money, but you're still aware that you are inexperienced in this. It's okay to be nervous about losing money.
Don't worry, with time, you'll start immediately noticing which items can be valuable. Soon enough, you'll see little details that you would've missed before, like a book being a first-edition or a kitchen utensil being name-brand. You'll gain experience and skill, while seeing your bank account go up with little investment.
Before then, it's practical to always keep these tips in mind:
Be early.

If you arrive late, you're letting everyone else find the valuable items first and take them before you even knew they were there. By the time you get there, what will be left are things no one else wanted. If you simply can't make it there on time, it's best to arrive at the end of a yard sale. At this point, the owner is much more willing to haggle for the sake of having less things to put up again.

Take good pictures.

Presentation is everything when it comes to selling your items. If you upload low-quality pictures of your product, you're less likely to make a sale. Someone else can offer the same product in worse quality, but have a spectacular photo of it, and make a greater profit than you. Find the best angles and lighting for the item. 

Move fast.

Don't stick around at a garage sale for too long, if you can't find anything good. When mapping out your plan for the day, establish time limits for yourself. If you've already wasted an hour at one place with zero profit, chances are that wasting two more hours isn't going to be any better!

Don't stick to local listings.

You need to be willing to sell both locally and online. Certain items might be incredibly easy to sell locally, but are difficult to get rid of online. Other products might be nearly impossible to sell locally, but are sold online within a day!

Haggle, haggle, haggle!

One of the best parts about garage sales is that the owners are most likely doing it, because they are dying to throw away all the clutter they've gathered throughout the years. Carry lots of singles on you and make an offer for how much you want to pay. If they reject it, simply move on, but chances are they'll be happy to give you whatever item is now useless to them.

Research with completed eBay listings.

Nowadays, we have access to all the information we want at the touch of our fingertips. Put that phone to good use and look up items you're not sure about. If you're wondering whether or not to buy a risky product, simply check at how much it's going for on eBay and decide if it's worth it. It's good to double-check before making a purchase.

Friday is the day to sell.

Serious buyers tend to shop on Fridays, when there's less competition. Saturdays and Sundays are cluttered with people trying to sell on their free time, which means Fridays are perfect for you.

Find your areas of expertise.

As you gain experience in reselling, you'll start noticing familiar items that continue to make you income. Find specific areas that you can do extra research on, whether it's shoes, games, toys, tools, etc. You'll slowly start becoming an expert on which brands sell better and which types aren't useful. This will save you loads of time, eventually allowing you to view and buy items within minutes of arriving at garage sales, instead of browsing first.

Aim rich and old.

Two of the best houses you'll want to visit for garage sales are ones with senior citizens or affluent people. You can gather great, almost new items from them and make double or triple what you spent.

Ask for more.

If you find a valuable item and you know you'll make substantial profits from it, don't be afraid to ask the seller if they have similar items. If it's similar equipment or collectibles, you'll stumble upon an easy batch of money!

Break out your tools.

Plenty sellers have items that are simply broken, but can be easily fixed. If you train yourself to repair appliances, electronics, and similar items quickly, you'll open up a whole new world of reselling. Suddenly, you can start looking at broken bikes, microwaves, washing machines, and more!

Be polite.

If you're trying to buy an item from a seller and you can't seem to agree on a price, let it be and don't get frustrated. If you've sold a product and the buyer has problems with it, try to ease their troubles. Being polite and professional will go a long way, whether it means being sold another great option or bringing a buyer back as a regular customer.

Post your items everywhere!

If you're having trouble making a sell, feel free to cross-post it across several different reselling websites. You never know where your ideal client will be looking!

Be descriptive.

When posting your item, you need to be as detailed as possible. Your buyers are not expecting brand new items, so it's better to be upfront about any imperfections, whether it's a big tear or a minor scratch. Not only does this add credibility, but clients will be more willing to ask questions and buy your product.
Online reselling is an extraordinary way to make money on the side. You never know what spectacular discoveries you could make the next time you browse a thrift shop or visit a yard sale.
By doing proper research and being careful, the most you have to lose is some free time! However, there are no limits on the potential to earn. 
Bonus Content: Examples of Sold Garage Sale Items
Enter your name and email below to get access to bonus content